Lately, I've been on a mission to find new potluck dishes.
I tend to make the same things — bruschetta, lumpia, any number of desserts, and this Mexican vegetarian dish with eggplant, corn and tomatoes that I've been obsessed with — and was desperate to come up with something different to take to parties.
So when I got invited to a potluck birthday get-together this weekend, I decided it was time to debut something new.
And that something new was bacon candy.
I knew it was going to be a controversial dish. I was going to a dinner party of folks who shop almost exclusively at farmer's markets and at Whole Foods. They compost, recycle and ride their bikes to work. I wasn't sure how they would feel about a platter — yes, a platter! — full of candied bacon.
Oh, it was a hit.
The platter was nearly licked clean by the time I left.
I found the recipe was browsing the December 2012 issue of Food & Wine. All the credit goes to Bronson van Wyck (@bronsonvanwyck), who came up with the recipe below.
It's easy, it's tasty, it's a showstopper — and you can even make it ahead of time and store it at room temperature for later.
Meaning, it's really the perfect potluck dish.
So bake away. You can thank me later.
Starts with bacon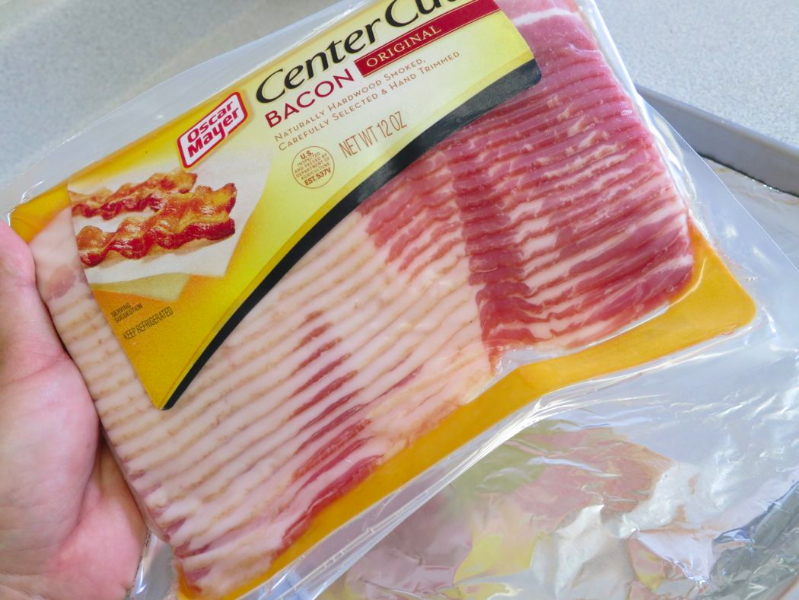 Bacon candy
Contributed by Bronson van Wyck in Food & Wine, December 2012
Ingredients:
1/2 cup packed light brown sugar
1 1/2 teaspoons chile powder
20 slices of thick-cut bacon (1 1/2 pounds)
Directions:
Preheat the oven to 400 degrees.
Line two rimmed baking sheets with foil.
In a small bowl, mix the brown sugar with the chile powder.
Arrange the bacon strips on the foil and coat the tops with the chile sugar. Bake for 20 to 25 minutes, until caramelized and almost crisp. Transfer the bacon to a rack set over a sheet of foil to cool completely. Great on salads, too.